Best Electric Toothbrush for Braces (Dentists Advice)
You already know that brushing and flossing are a vital part of your daily oral routine. But if you have braces, keeping your teeth clean is even more critical. Improper care can create all kinds of problems. It can leave you with unsightly markings and even lead to serious issues like gum disease and decay. 
Luckily, the right electric toothbrush can go a long way towards ensuring the health and beauty of your teeth. This guide will take a look at the best electric toothbrush for braces, as well as give you some practical buying advice. Keep reading to learn more. 
No time to spare? Here are our winners.
Best Overall
Budget Power
Powerful Clean
Honorable Mention
Philips Sonicare ProtectiveClean 5300 Rechargeable Electric Power Toothbrush, Black, HX6423/34
Oral B Oral-B Pro 2000 Crossaction Electric Rechargeable Toothbrush Powered
Oral-B Pro 3000 3D White Electric Toothbrush
quip Adult Electric Toothbrush - Sonic Toothbrush with Travel Cover & Mirror Mount, Soft Bristles, Timer, and Metal Handle - Silver
Best Overall
Philips Sonicare ProtectiveClean 5300 Rechargeable Electric Power Toothbrush, Black, HX6423/34
Budget Power
Oral B Oral-B Pro 2000 Crossaction Electric Rechargeable Toothbrush Powered
Honorable Mention
quip Adult Electric Toothbrush - Sonic Toothbrush with Travel Cover & Mirror Mount, Soft Bristles, Timer, and Metal Handle - Silver
The Best Electric Toothbrush for Braces–Our Picks
Let's start with an in-depth look at our top picks.  
Best Overall – Sonicare Protective Clean 5300
Philips Sonicare ProtectiveClean 5300 Rechargeable Electric Power Toothbrush, Black, HX6423/34
Customize your experience with the three different modes: Clean, White and Gum Care.
Pressure sensor protects teeth and gums from excess brushing pressure while improving your gum health up to 100% more vs a manual toothbrush.
Always know when to replace your brush head for an effective clean with BrushSync replacement reminder.
2 minute timer with QuadPacer helps ensure dental professional recommended brushing time and encourages brushing in each quadrant of the mouth.
Battery indicator light let's you know when to recharge; 2 week battery life. Includes: 1 Philips Sonicare 5300 handle, 1 charger, 1 G2 Optimal Gum Care brush head, 1 travel case, 2 extra W DiamondClean brush heads
The Sonicare Protective Clean 5300 takes the prize for the best mid-range electric toothbrush–at a price that won't make your wallet bleed. It's the newest model from Sonicare, though it has a lot of features that look like the 5100's.
One of the best is the Easy Start Program, which gradually ramps up the intensity of the brush during the first fourteen days of use. Once you get used to the pressure, you can choose from one of three different modes that clean the teeth and remove plaque. To protect your smile, the Sonicare has a pressure sensor that alerts you if you're brushing too hard.
Another useful feature is the quad pacer, which vibrates every thirty seconds to alert you that it's time to move on to the next quadrant of your mouth. And because it's difficult to remember when to change the brush head, Sonicare takes the guesswork out of remembering. Its Brush Sync System alerts you when it's time, which is especially vital when you have braces.
What we like:
Automatic Brush Sync head changing alerts 
Beautiful and ergonomic design
Comes with timer and quad pacer
Exceptional battery life
Includes travel case
What we don't like:
Slightly higher cost than similar models
No visual alerts for the pressure sensor
Oral B Pro 2000
Oral B Oral-B Pro 2000 Crossaction Electric Rechargeable Toothbrush Powered
Note: The model 2000 is now 2000 Pro 2. Oral-B 3D technology movement: Round toothbrush head oscillates, rotates and pulsates to break up 100 Percent more plaque vs manual toothbrush
Protect your sensitive gums: Visible gum pressure sensor reduces brushing speed and alerts if you brush too hard
From day 1: Gently whiten your teeth from first use by removing surface stains and plaque
Two brushing modes: Daily clean and gum care
30 days money back: With a dedicated support line empowering you to purchase for 30 days without commitment; contact: 08007311792.Compatible: The toothbrush is compatible with all genuine Oral-B toothbrush heads; 3D white, cross action, floss action, precision clean, sensitive or tri-zone.Included: One electric toothbrush handle, li-ion battery lasts up to two weeks of charge, one cross-action toothbrush head, charger with 2 pin UK plug; made in Germany
If you're looking for a simple and affordable way to keep your teeth clean throughout orthodontic treatment, the Oral-B Pro 2000 gets the job done. Though it lacks the bells and whistles of more expensive models (like Bluetooth connectivity), it has everything you need in an electric toothbrush.
The Oral-B Pro 2000 features a slim body and a straightforward design. It has a small round brush head that makes it easy to reach the far corners of your mouth and two brushing modes to blast plaque: Daily Clean and Gum Care. There is no icon or light to let you know which mode you're in, but it's easy to tell once you use the brush.
A feature we like is the pressure sensor, which lights red to let you know if you're brushing too hard. Another thing to note is its long battery life, which makes the Pro 2000 easy to take with you on vacation. But most importantly, this model removes much more plaque than a standard toothbrush does, making it ideal for people with braces.
What we like:
Includes two-minute brush timer
Easy operation
Exceptional battery life
Pressure sensors let you know if you're brushing too hard
It comes with a travel case
What we don't like:
Provides less value for money than the Oral-B Pro 2 2500
No Bluetooth capabilities to connect to the Oral-B smartphone app
Oral B Pro 3000
Oral-B Pro 3000 3D White Electric Toothbrush
Whitens by removing surface stains starting day 1
Oral-B's Bluetooth technology connects to your electric toothbrush to the Oral-B App for personalized brushing routines and daily monitoring
In-handle brushing timer pulses every 30 seconds to let you know when to switch areas of the your mouth
3 Mode Toothbrush Handle: (1) Daily Clean Plus visible Pressure Sensor lights up to indicate when brushing too hard. (2) Gum Care Mode massage mode(3) Sensitive Mode for a gentle routine
Compatible with Oral-B Brush Heads for every Oral Care need: CrossAction, FlossAction, Precision Clean, 3D White, Sensitive Gum Care, Deep Sweep, Dual Clean
Oral-B has an extensive range of electric toothbrushes, and it can be confusing to differentiate between all of them–even more so when we consider that the Oral-B Pro 3000 is quite similar to the Oral-B Pro 2000. However, there are a few differences between the two models.
The Pro 3000 includes an extra cleaning mode, and Oral-B also changed the design of the brush handle. They included less grippy material, which some people prefer. But the most significant difference is that you can get this model with or without Bluetooth capabilities. Not everyone loves using the app, but it can encourage oral health if you need extra help.
As is true of the other Oral-B models, the Pro 3000 has a pressure sensor to alert you if you're pressing too hard. But the Pro 3000 has expanded 360-degree sensing capabilities. It may be worth upgrading to the Pro 3 3500 to get the travel case, but this toothbrush does an excellent job of cleaning teeth, especially for those with braces.
What we like:
Two-week battery life
Several cleaning modes
Includes timer and quad pacer
What we don't like:
Not quite as grippy as other Oral-B models
No visual displays of which cleaning mode is selected
Honorable Mention–Quip Toothbrush 
quip Adult Electric Toothbrush - Sonic Toothbrush with Travel Cover & Mirror Mount, Soft Bristles, Timer, and Metal Handle - Silver
Electric Toothbrush: ADA-Accepted & helps remove plaque, prevent & reduce gingivitis
Sensitive Sonic Vibrations: 2-minute timer, 30-second pulses, 3-month charge (AAA battery inside)
Multi-Use Travel Cover: Mounts to mirrors, glass, and tile & covers bristles to pack for on the go
Sleek, Sustainable: Slim metal handle (no wires or charger) with replaceable soft brush head
Our Mission: Better oral health, made simple, affordable, and enjoyable with expert dental advice
For anyone looking for a minimalistic product, the Quip toothbrush might be right for you. Quip is a low-powered battery-powered subscription option that has risen to popularity recently. When we compare it to the other models on our list, it's true that Quip produces weaker vibrations. However, these weaker vibrations are precisely what many people love about it.
If your mouth is especially sensitive, you can take advantage of some of the benefits of vibration but without discomfort. As you would expect, the brush comes with a two-minute timer and thirty-second quad change reminders. The Quip also has a sleek, streamlined feel that many individuals find pleasing.
Its low-profile design is perfect for traveling, as is the smaller size for people with small mouths. Quip even makes a specific kid-size toothbrush for little ones.
What we like
Sleek design that's easy to pack
Various subscription options
Includes a children's option
What we don't like
Not rechargeable
Not as powerful as traditional electric toothbrushes
No low-battery indicator
Best Electric Toothbrush for Braces Buying Guide
Now let's take a look at some features to look out for when buying an electric toothbrush.
Stroke Motion
Some electric toothbrushes use a rotating or oscillating technique to clean teeth. These toothbrushes reach up to 7,500 strokes per minute and are suitable for most people.
Other models use sonic stroke motions, which reach high speeds of 5,000 strokes per minute. Not only do they oscillate, but the head also moves back and forth, which some find to be too intense.
Number of Settings
It's useful for a toothbrush to have various settings to personalize your brushing experience.
Some of the settings to look out for are sensor pressures, timers (with quad pacers), and various cleaning modes. These three features help ensure that you're brushing long enough and with the right pressure and that you can change the sensitivity level of the toothbrush to match your needs.
ADA Seal of Acceptance
Want to know whether a product safely and efficiently removes plaque? Look for the ADA Seal of Acceptance. This seal confirms that a product meets the rigorous standards set forth by the American Dental Association, so you can rest assured that it's safe and effective. 
Bristle Stiffness
You will notice different descriptions of bristle stiffness, ranging from extra soft to hard. Avoid electric toothbrushes with extra hard bristles, which can damage the surface of the tooth.
Brush Head Size
Some people have smaller mouths and benefit from a reduced-size brush head. But whatever size mouth you have, it's vital to choose a brush that fits in your mouth. Large electric toothbrushes may make it more difficult to reach all the nooks and crannies, so pay close attention to the size.
Choosing a toothbrush with a round head is an excellent way to avoid this problem, but if you like a traditional shape, look for something smaller than 0.5 inch by 1 inch.
Travel Case
Though not the most critical feature, many brands include a travel case for their brushes.
How to Use an Electric Toothbrush
Finally, let's talk about how to use an electric toothbrush for the best results.
Brushing Frequency
You should brush two times per day for two minutes each.
Brushing Quadrants
Most electric toothbrushes have a two-minute timer with alerts to move on to the next section of your mouth or quadrant. These quadrants include:
The front side of the teeth
The backside of teeth
The chewing surfaces of teeth 
The tongue and roof of the mouth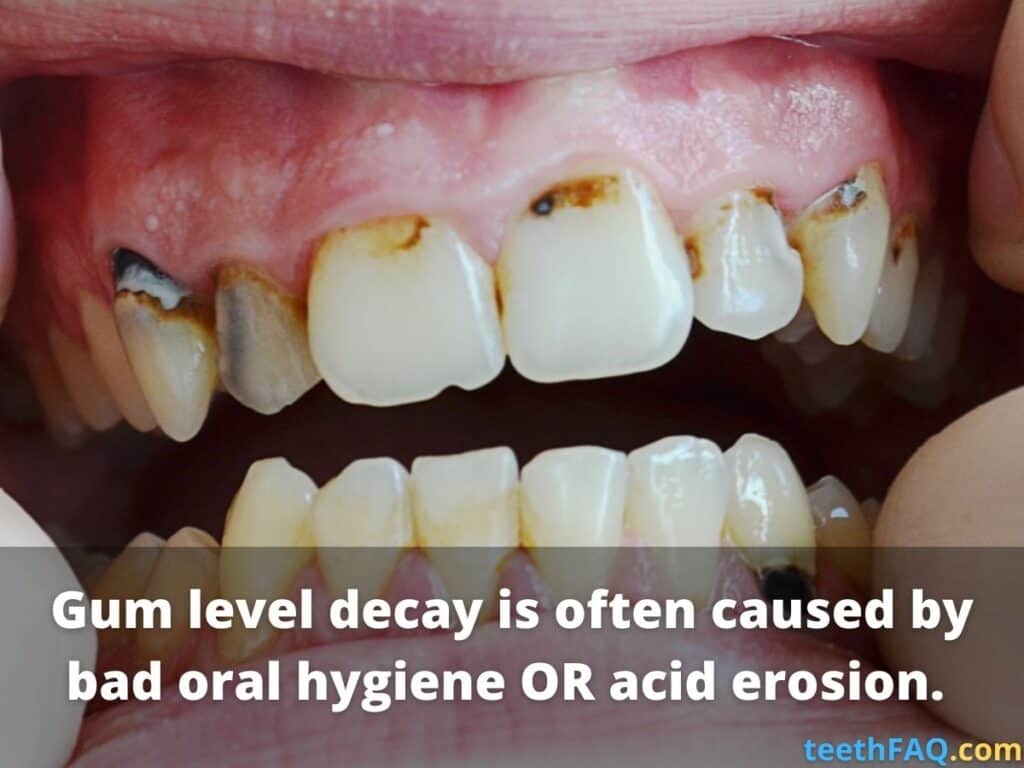 Brushing Technique
Before brushing, you should floss to dislodge food or plaque stuck between teeth. Flossing beforehand makes it easier for your toothbrush to get rid of these particles.
One common mistake is pressing too hard or scrubbing. Electric toothbrushes eliminate the need to press hard or scrub; you should instead let the toothbrush glide gently along the teeth at a 45-degree angle.
Remember that a back-and-forth brushing motion like you would use with a regular toothbrush is not appropriate for electric versions. Instead, leave the brush head on each tooth for a few seconds before moving on, following the shape and curve of your gums. 
Conclusion
Braces make caring for your teeth more challenging, but a high-quality electric toothbrush can help bridge the gap. The above models are excellent at removing plaque, preventing gingivitis, and keeping other gum diseases at bay.